Shareaholic just recently released a new report showing that the photo sharing network, Pinterest, has passed Google, Twitter, Bing, and Stumbleupon in referral traffic. Of course Google is still king of traffic in terms of organic search, but Pinterest has become the major source of referral traffic this year.
Pinterest leaves Twitter trailing behind
The data released by Shareaholic consists of the amount of shared visits (%) every month from January 2012 – June 2012. The sources of traffic includes; Google (organic, Direct, Facebook, Yahoo, Bing, StumbleUpon, Google (referral), Twitter, and Pinterest. According to the chart below, the traffic from Pinterest was at a 0.85% in January, but by June it increased to 1.19%.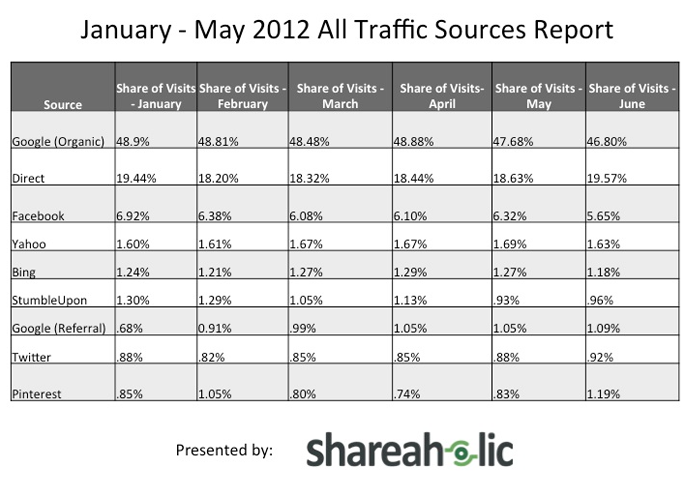 What is so interesting about this is that Pinterest has steadily climbed it's way to the top. It comes as a shock when compared to Twitter who started at 0.82% in Febuary, but only managed to increase their referral traffic to 0.92% by June. Twitter seems to be losing it's touch as in January the traffic was at 0.88%, but dropped drastically by the next month.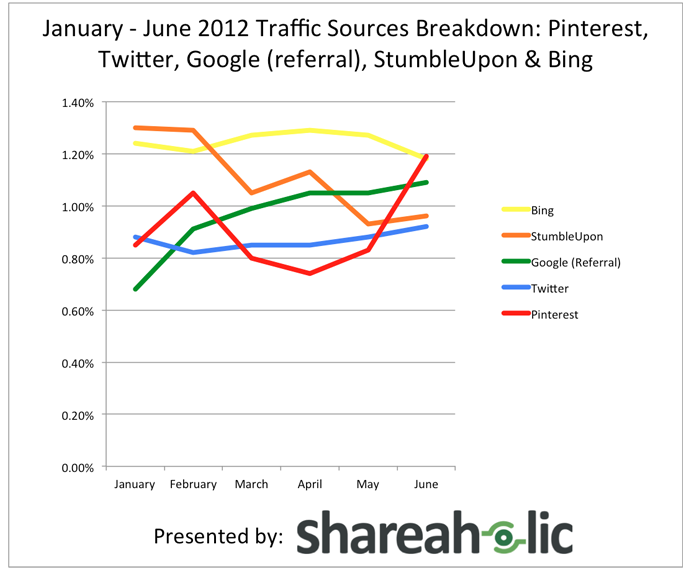 When you compare the rate of increase between the traffic sources, Pinterest is rising at a faster pace than the rest. The closest source is Bing which is at 1.18%, but it's clear that they are losing momentum rather than gaining it.
From this data it's clear every digital agency should account for Pinterest as a source of traffic generation. The data shows that Twitter is unsteady, so you shouldn't throw all your eggs in that basket. Pinterest is definitely a must have not only for a digital agency, but other corporations that can make room for it.