Moments ago Apple wrapped up its worldwide developers conference, or simply WWDC, keynote where the company revealed new versions of iOS, macOS, watchOS, updated Macs, iPads and the rumoured HomePod. Be sure to read what we predicted in last week's WWDC predictions post – we weren't too far off.
Here are the highlights in case you missed the show…
iOS 11
iOS 11 comes loaded with new and welcome features and design improvements including a new app store. Here are the highlights in iOS 11.
Camera and Photos Improvements
Live Photos has some new features that allow the budding filmmakers in all of us to create looping and bouncing videos, we also have the option to change the key photo to a frame in the Live Photo. QR code scanning is now supported in the Camera app and document scanning has better dedicated support on iPads.
Messages
The Messages app has improved syncing across iPhones, iPads and Macs. Payments can be sent directly through the app to other iPhone users with Apple Pay.
Apple Maps and Do Not Disturb While Driving
Indoor maps of shopping malls and airports comes to Apple Maps with improved directions (you can now see the speed limit and which lane you're suppose to be in while driving, hint: Google Maps is the right lane.)
Do Not Disturb While Driving which, you guessed it, stops notifications from disturbing you while you're – you guessed it – driving, it even sends replies to people messaging you. This feature intelligently detects if you're moving like a car, but you're a passenger or in a self-driving car you say, don't worry, you can tell it you're not driving.
Siri
Siri sounds even more human, with contextual pronunciation which means words sound different depending on the sentence – life altering stuff. The digital assistant can now translate your voice into several languages with more to come. Siri is also a bit more aware of what's going on, allowing more contextual questions and suggestions – "could you repeat that?"
Brand new App Store
The new App Store design gives more power to developers when it comes to marketing and releasing their apps with the ability to release updates in phases to reduce resource overload – convenient. Users will enjoy a cleaner layout and better discoverability with more videos and even stories about the apps and the developers behind them.
Control Center and Multitasking on the iPad
The Control Center has a new design with a different layout, more options and additional support for Force Touch, allowing you to expand an option for even more options! Options in options! The iPad now has a dock which is more like the dock on macOS then the dock we're use to on iPads, the new dock can be displayed at anytime on top of any app.
Exclusive to the iPad, multitasking has been improved with app switching and dragging and dropping between split screen apps now supported.
Files
And finally, 10 years after iOS first found its way into our palms, iOS gets file management in a dedicated app creatively called 'Files'. Unfortunately, it's on iPads only at the moment, but how often do you find yourself looking for a file on your iPhone?
But there's more
The Apple Pencil is more convenient with the ability to write notes in more places like Mail – just like a pen and paper. Tapping the lock screen with the Apple Pencil will take you straight to your notes – unlike an actual notebook, you still have to open those with your hands. Finally, all your illegibly handwritten notes are searchable – that's actually very clever, apparently that's the machine learning tech in the devices.
The keyboard is far easier to use on iPads, removing the need to change views to get type a symbol or number. The iPad also gets native screenshot editing and sharing which is very useful for anyone debugging websites and apps – not that we'd know, haven't had a bug yet. ????
We also noticed a new design for the signal indicator in the upper left corner –goodbye untraditional dots, hello again familiar bars of strength.
iOS 11 will be available for free in 'the Fall' which likely means September this year.
iPad Pro in 10.5"
The iPad lineup welcomes a new iPad Pro in a 10.5 inch variation. The device is physically the same size as the 9.7 inch iPad but with less bezel around the screen. A hint at what's to come to the iPhone 8 maybe. The new iPad is, of course, powerful with a 30 percent faster CPU, 40 percent faster graphics, and features a 10 hour battery. It also has the same camera as the iPhone 7, with a 12MP camera and more. This iPad is the first to feature a USB-C Lightning Cable which means it charges at half the speed.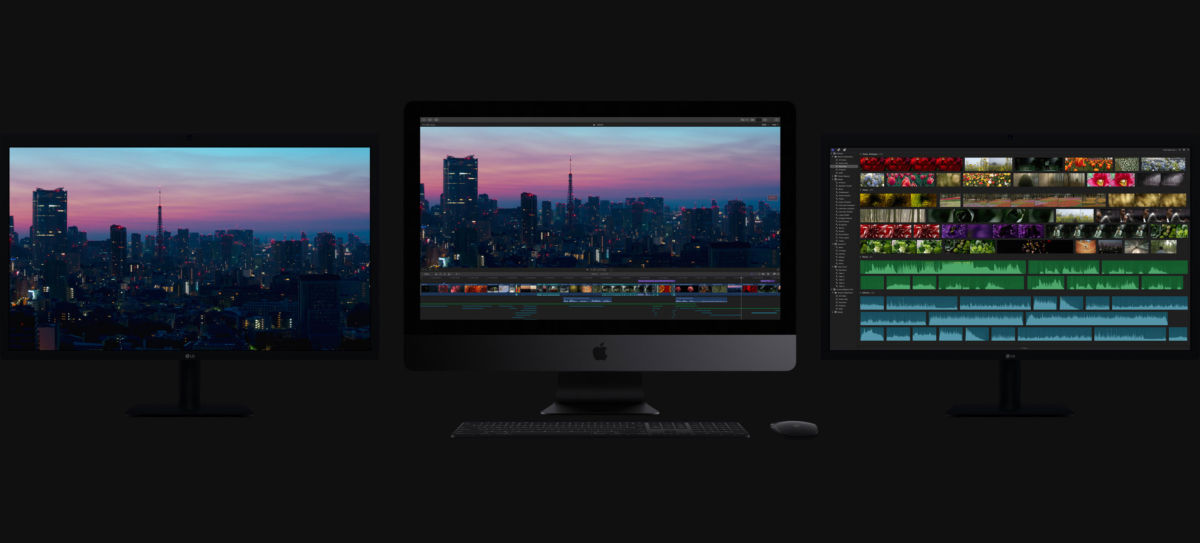 iMac Pro and Mac Updates
Apple teased a new iMac called the iMac Pro in a very short promo video, the specs are, as Apple described them, badass. The iMac Pro comes in a space grey colour theme which looks pretty… pro… We won't see the iMac Pro until later this year, just in time for Christmas and starting at $4,999USD – it's a perfect stocking stuffer.
The rest of the Mac family got some big updates, especially the iMac lineup which almost doubled all its predecessor's specs. Apple is getting serious about gaming and VR with support for Steam's VR SDK coming to the Mac and external graphics support.
The MacBooks also got new CPUs.
macOS, watchOS and TVOS
Apple's other operating systems got some stage time today too. Here're the highlights.
macOS High Sierra
Don't get us started on the name, or even the term Craig Federighi used to describe it – "fully baked." The desktop operating system has a faster Safari which intelligently determines which sites should autoplay videos and limits how sites can track you. macOS also has a new file system which is much faster compared to the last. The Photos app is more powerful with more editing options and includes better integration with other photo editing apps like Photoshop.
watchOS
The Apple Watch gets some new watch faces including a Toy Story one. Siri now offers intelligent suggestions and Apple Music is more integrated into the device and finally, fitness equipment can now send information to the Apple Watch, providing it with better activity data.
TVOS
Amazon Prime Video is coming to the Apple TV. About time!
Each update will be available for free in September.
HomePod
Entering the digital assistant speaker market alongside Amazon and Google, Apple debuted the Siri Speaker, a device dedicated to the digital assistant. It looks like a mesh wrapped Mac Pro and comes in black and white. It has seven speakers, directional control and many other buzz words – get it? Buzz because it's a speaker. It needs to be plugged in so it's not portable. It's killer feature, though, is its spatial awareness which means it intelligently adapts to the room you're in, like the size, and adjusts the volume accordingly.
It has Siri baked in of course, which is how you control the HomePod. Siri is now, what Apple called, a musicologist (which is apparently a word) which is a fancy name for a DJ with doctorate in discovering music you like. Just say "play more like that" after a song you like finishes and low and behold, it will do just that. You can ask all the usual questions and, of course, use HomeKit to control devices in your home. Like "who won the game?" or "turn on the lights" – particularly useful when you can't find the light switch and don't mind talking to an inanimate object in the dark.
It'll be on the market later this year in December for $349USD so watch out Amazon Echo and Google Home, there's another intelligent speaker on the shelf.