The International Day Against Homophobia, Transphobia and Biphobia was celebrated over the weekend and, while most were unable to take to the streets to mark the occasion, supporters all over the world came together to share images and stories online.
Inspired by the spirit and togetherness of the contributors, our design team has put together a collection of its favourite LGBTQ+ marketing campaigns from the last ten years.
So pour yourself a drink, sit back and let our designers take you through a collection of their Favourite LGBTQ+ Marketing Campaigns from the last ten years.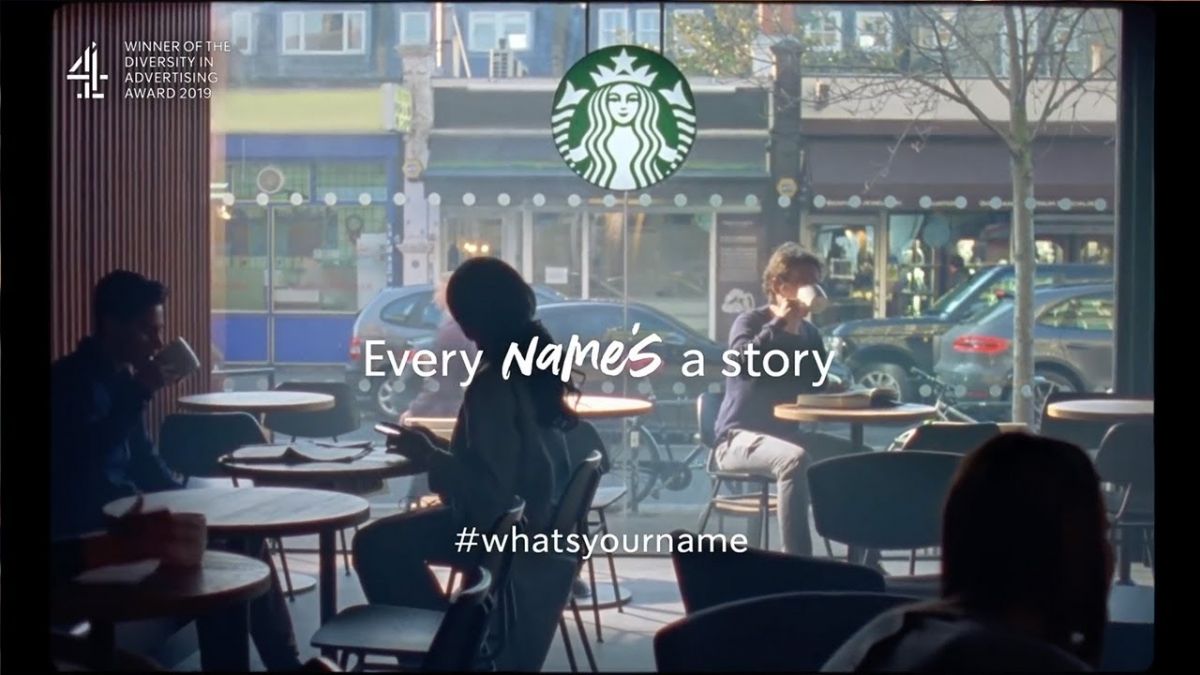 Starbucks - Every Name's A Story
This year, Starbucks released a series of videos as part of its #whatsyourname campaign.
The campaign's flagship video tells the story of James, a transgender man, who is struggling with his transition to a new name and identity. It uses the "name on the cup" coffee shop trope to show how much a simple act of acceptance can mean to somebody in a situation like his.
From a designer's perspective, the art direction in James' video is fantastic; it is shot with a realistic tone and refuses to glamorise the subject matter, instead highlighting the daily struggles that people within the transgender community often face.
Channel 4 chose the #whatsyourname campaign as the winner of its Diversity in Advertising Award, describing it as "ground breaking" and praising Starbucks' subsequent partnership with UK charity Mermaids, which offers support to gender-diverse children, young people and their families.

"This campaign really strikes a chord with me; it feels genuinely heartfelt and personal. I love how it takes a familiar aspect of Starbucks' service and uses it as a symbol of inclusivity and acceptance."
Sam Izzet, Design Manager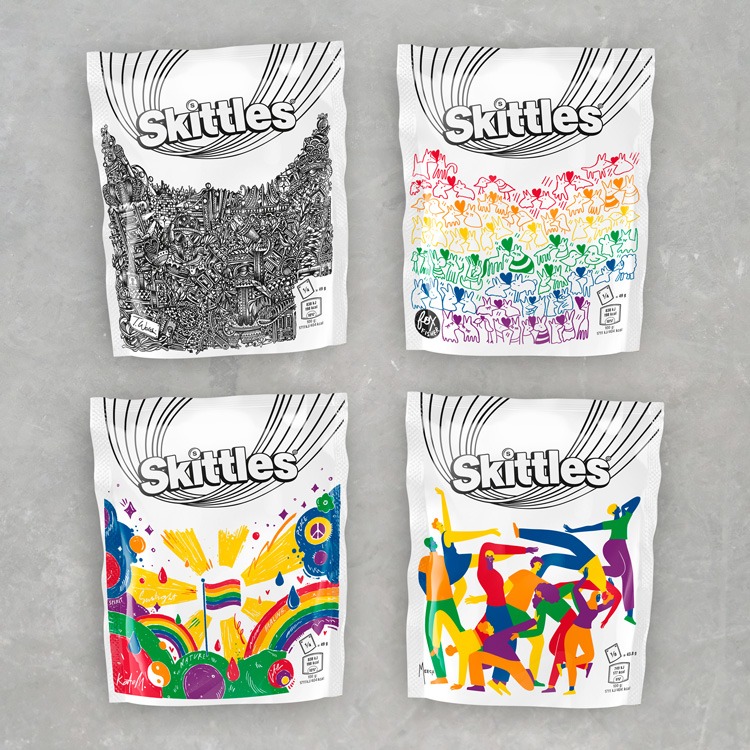 Skittles
Only One Rainbow Matters
Skittles - Only One Rainbow Matters
Beyond Pride, it is difficult to think of a brand more synergistic with rainbows than Skittles.
In order to support the LGBTQ+ community, Skittles have gone "rainbowless" for the Pride season every year since 2017, using the strapline "only one rainbow matters during Pride."
And in 2019, Skittles went a step further, partnering with leading LGBTQ+ designers including Kate Moross and Maia Boakye to create four limited edition packaging designs, which went on sale before and during the Pride season.

"This is an excellent example of a brand being self-aware in its marketing – Skittles have found a way to support an important cause while strengthening their brand and catching the eye."
Marika Samek, Senior UX Designer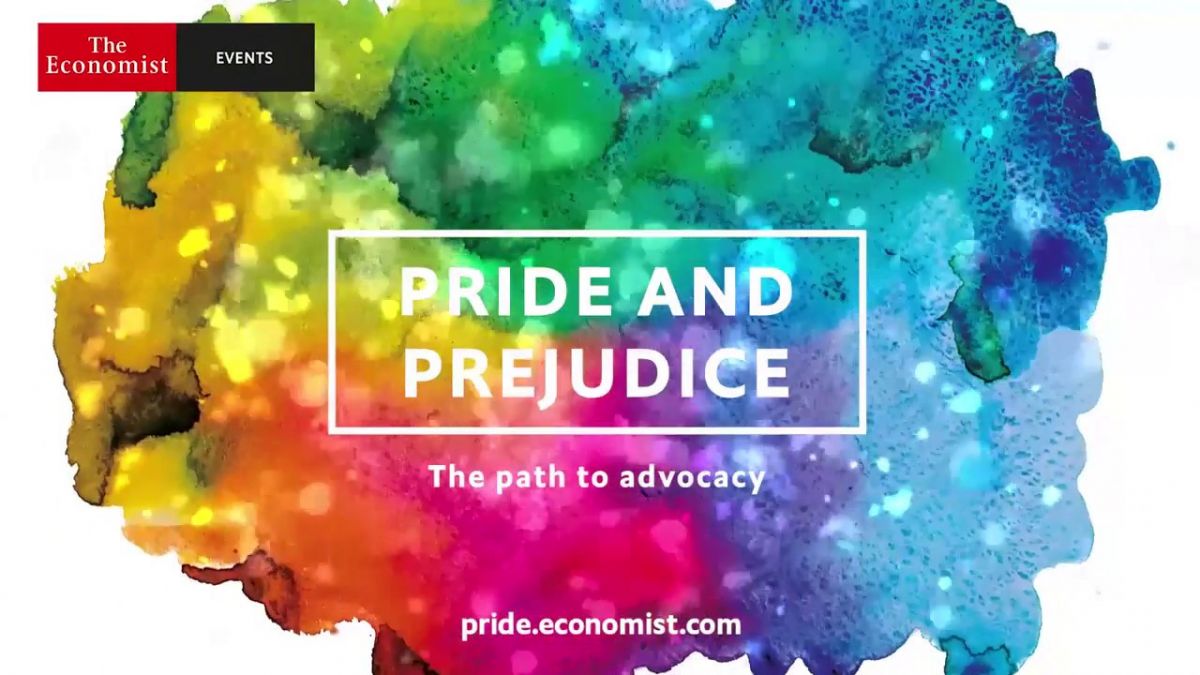 The Economist
Pride and Prejudice
The Economist - Pride and Prejudice
First broadcast in 2016, The Economist's Pride and Prejudice campaign is a 24 hour event, streamed live worldwide, that includes some of the leading voices in business and the LGBTQ+ community.
The purpose of the event, which was first held in New York and has since been hosted in London and Hong Kong, is to lead and encourage conversations about the accommodation of the LGBTQ+ community within business.
The Economist's supporting social media campaign has helped it to reach millions every year, and made Pride and Prejudice one of the most hotly anticipated LGBTQ+ events on the calendar.

"Pride and Prejudice is one of The Economist's most popular campaigns, and for good reason. It hands the microphone to experts, allowing them to lead the conversation and building a strong social media campaign around them."
Laurent D'Unienville, UI Designer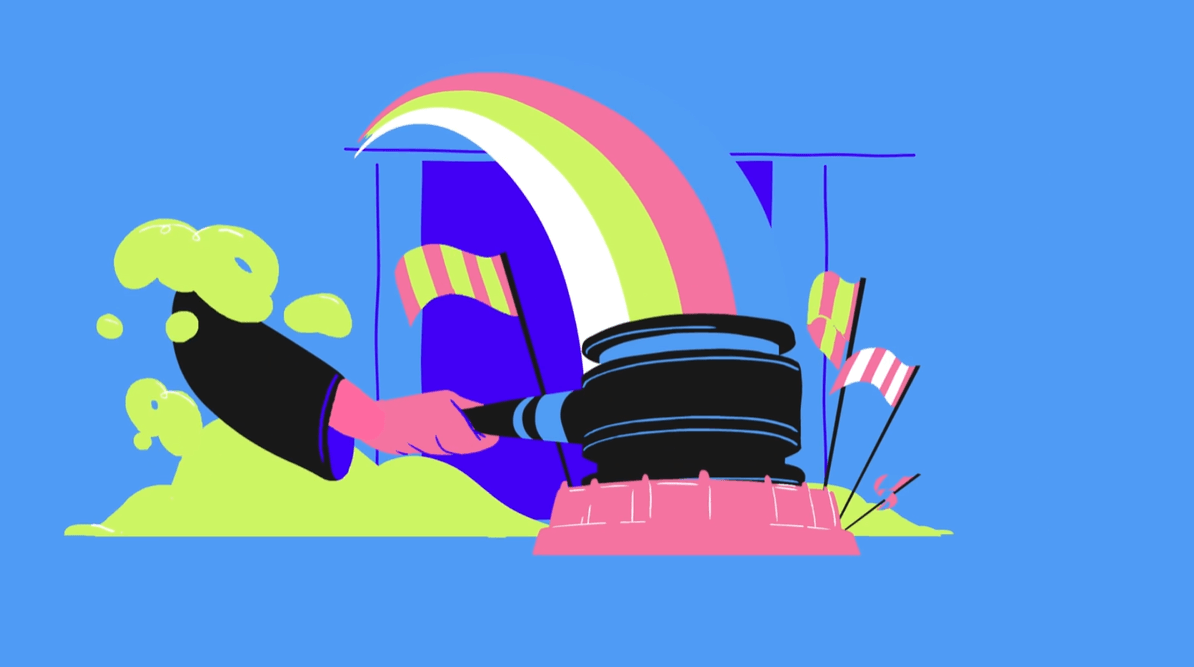 Spotify - Pride Stories
In 2017, Spotify commissioned Vancouver based agency Giant Ant to create a series of animated clips highlighting some of the key milestones of the LGBTQ+ movement.
By partnering with some of the most famous advocates within the community, Spotify were able to create an entertaining and informative set of videos which now sit within their Pride Playlists. 
The slick motion design and colourful animation style are key in bringing the campaign's content to life, for which Giant Ant have earned a lot of credit.
"Not only did I find Spotify's campaign informative and inspirational – it actually had a big influence on the imagery and video that we created for this blog series!"
Rhys Smitti, UI Designer
Celebrate Difference
What do you think of the campaigns our team have picked out? Let us know by tweeting @JBi_Digital, or by leaving us a comment on our LinkedIn.
If you have a project which you would like to speak to our team about, please don't hesitate to get in touch with us through [email protected], or by calling 0207 043 2510.